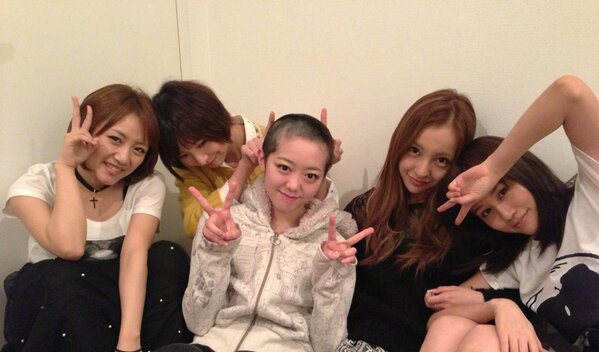 On yesterday's All Night Nippon radio show, Itano Tomomi defended a picture of Minegishi Minami that was uploaded to Twitter after her scandal erupted. In the picture,  a smiling Miichan is seen surrounded by the 1st generation members. Shinoda Mariko's tweet later revealed that they have gathered around her for a hotpot session.Some netizens have expressed their doubt about Miichan's sincerity in repenting, since she looks happy at a time when she should be repenting.
Tomochin explained that the 1st generation had wanted to do something for Miichan as she's going through a tough time, so they had a meal and chatted. Later, as they knew that the fans were worried for Miichan, they decided to take a cheerful photo to show fans that Miichan was doing well.
A picture speaks a thousand words. Seeing the great aces of 1st generation AKB supporting her like this certainly makes her mistake seem so much smaller.