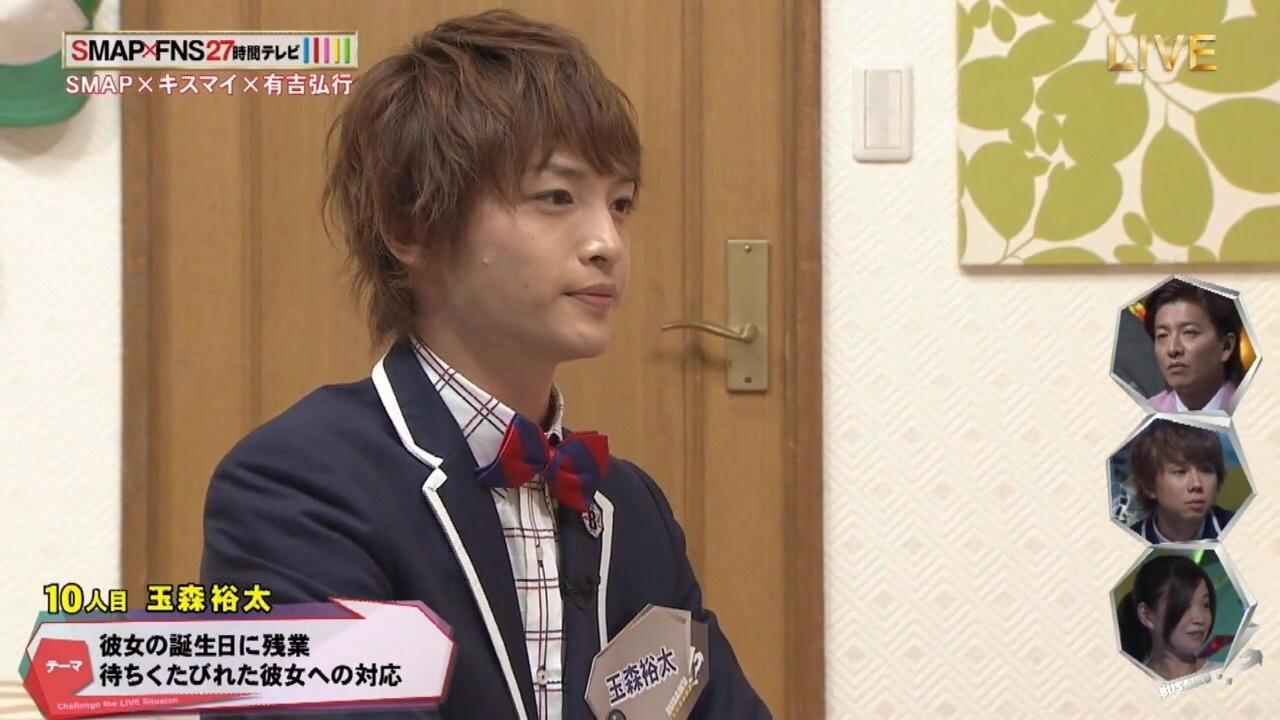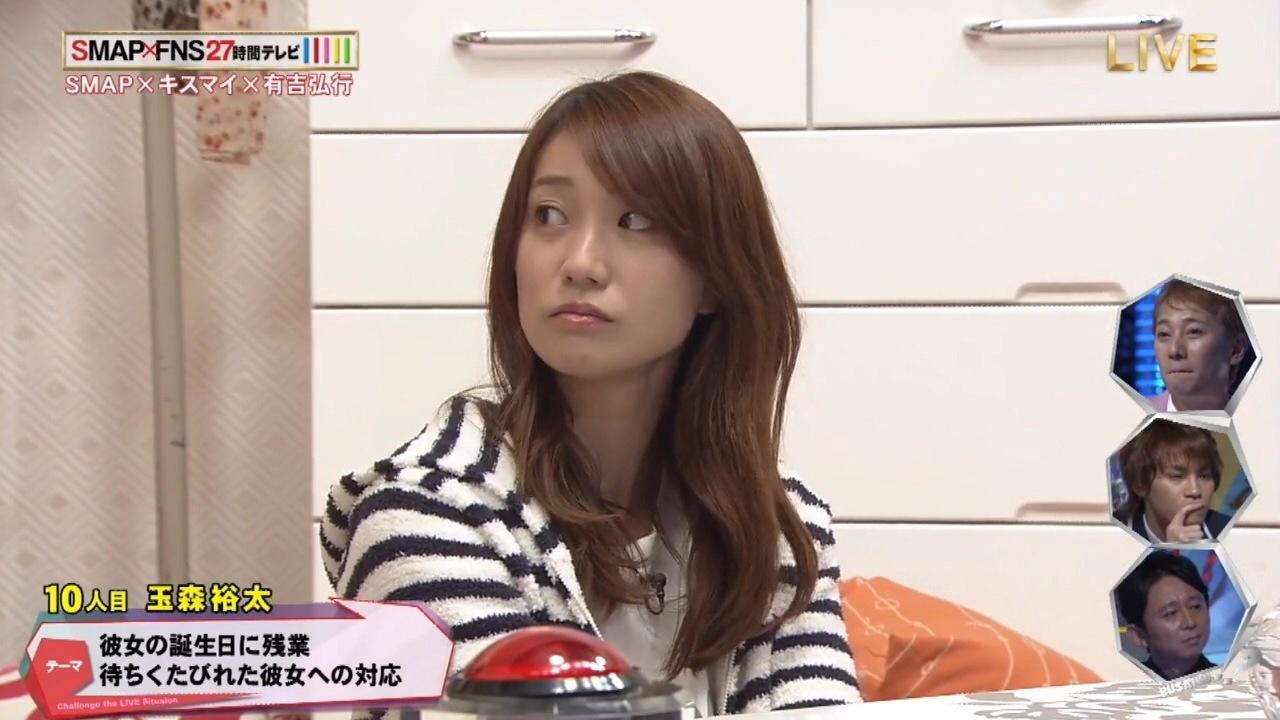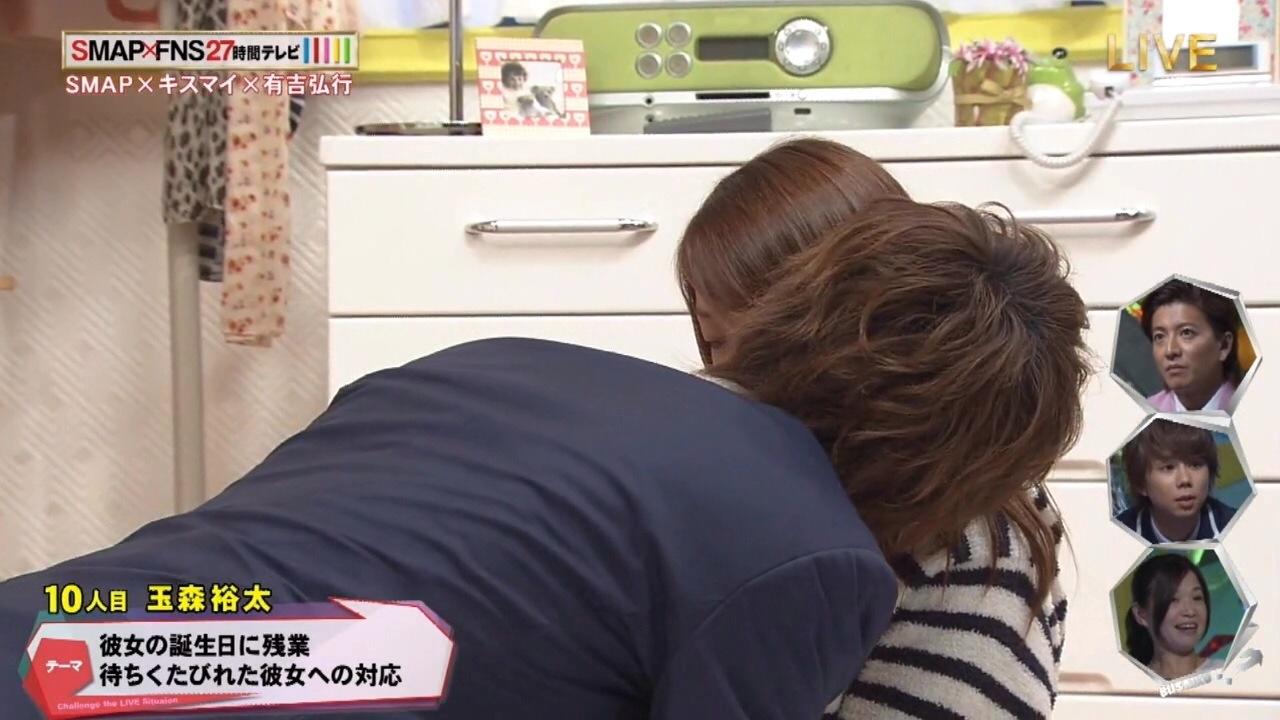 During SMAP's 27Hr TV yesterday, SMAP and Kis-My-Ft2 competed in a segment where they are supposed to act as boyfriends to Oshima Yuko. Each member would be given a situation and they are supposed to charm Yuko with their actions/words. The audience will then assess them and give points accordingly.
In the case of Kis-My-Ft2 Tamamori Yuta(starts at 16:06), he had to play out a situation where he had to appease his girlfriend as he returned home late and missed her birthday.
Yuko: My birthday is over..
Tamamori: I'm really sorry. I wanted to come home early, but i had to work overtime and missed your birthday. But i've already planned our date for the next time when i'm on leave.
Yuko: Where are we going?
Tamomori: I can't tell you! It's a surprise for your birthday.
Yuko: Then i won't be getting anything today?
Tamomori: Not really, can you turn towards me?
Yuko: Yes..
Tamomori: I'm sorry for missing your birthday. Please bear with me, i hope to erase your sadness. Happy Birthday, Mariko(Yuko's stage name). *fake kiss*
After the scene was aired on TV, angry fan girls took to Twitter to bash Yuko.
むり大島優子殺す(#`皿´) まじでにくむ。笑 にしても玉ちゃん可愛いぃぃい
"I have to kill Oshima Yuko. Really hate her.Tama-chan is cute."
-Twitter mikuchi_711 (美空)
大島優子、渉に色目なんかつかったら殺すどころかコンクリート詰めして海の底にしずめるよ?!?!
Oshima Yuko, if you look at him at way i will kill you, put you in concrete and bury you at the bottom of the sea!
-Twitter angel__yuuh ( かなみつ ) 
まじ最悪(・・;) 大島優子があんなこと言わんとけば、玉森はキスしなかったよ(・・;)
If Oshima Yuko had not said those words, he wouldn't have kissed her! This sucks..
-Twitter tmr3yt17 (よねたま)
大島優子やだ やだやだやだやだやだ ありえん 最悪 まじやだ 玉ちゃんかわいそう
I hate Oshima Yuko. I can't believe it, it's the worst and i seriously hate it. Tama chan is so pitiful
-Twitter ayachi91013 (俺足族 あやたま)
大島優子はまじで終わってるわ!? ほんと玉ちゃん可哀想だった(>_<)
Oshima Yuko is over! Tama-chan is so pitiful!
-Twitter tama0317y1215 (ゆき)
あれは大島優子が悪いよ、玉ちゃんは悪くない
Oshima Yuko is in the wrong, There is no reason to blame Tama-chan.
-Twitter michuuuxx (みぃぽぽ)
While it was really clear that the kiss scene was fake, Johnny's fangirls have proven themselves to be really scary when it comes to the code-of-conduct with their idols. I feel really sorry for Yuko, who was probably trying to help out Tamamori. But honestly, being that NEAR to Tamamori? How many countries did she save in her past life!! >_<
Graduation is a blessing in so many ways…
Source