AKB48 group's annual event "5th Janken Tournament" was held at the Nippon Budoukan in Tokyo today. A record number of 112 members participated in a bid to win a solo debut for themselves. In the end, it was NMB48 Watanabe Miyuki who won against AKB48 Kojima Haruna in a nerve wrecking round, making her the 9th member in the 48 group to be set for a solo debut.
As for the rest of the Top 16 winners, they would be singing the coupling track for the sololist's single, as well as filming an MV. The center for the coupling song is 2nd placed AKB48 Kojima Haruna.
Top 16 members are: Kawamoto Saya, Owada Nana, Miyazaki Miho, Nagao Mariya,Yuki Azuma, Saho Iwatate,Arai Yuki,Sato Kiarai, Kotani Riho, Kashiwagi Yuki, Tomonaga Mio, Fukada Nana, Nakanishi Chiyori, Uchida Mayumi, Kojima Haruna(Center of Coupling), Watanabe Miyuki(Solo).
Highlights from the Janken Tournament
-Kojima Haruna creates a subunit for herself called "Kojizaka46"
Dressed in Nogizaka-style costumes, Kojima Haruna made a grand entrance with 4 members of Nogizaka46 and danced to a snippet of Nogizaka46's "Girls Rule", before introducing her group as Kojizaka46. The reason for this? Her janken opponent was Nogizaka46's Ikoma Rina so this was a most clever ploy to make things fun for fans of the 2 rival groups.
Before their match Kojiharu said "If i win, please join Kojizaka46!"
In response, Ikoma Rina said "If i win, please let me touch your chest!"
Ikoma's wish did not come true as Kojiharu won and she was drafted into Kojizaka46. You can see her standing alongside the Kojizaka46 members throughout the tournament.

Kojiharu's IG: The first match was against Ikoma, so i thought of setting up Kojizaka46 and using Nogizaka-style costume. Thanks to the members of Nogizaka who came for this.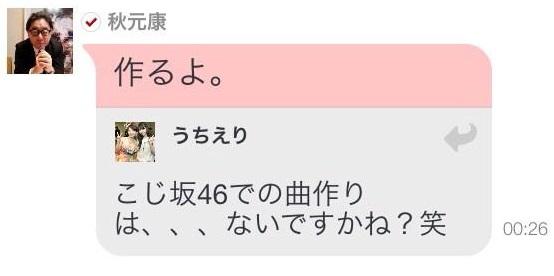 AkiP's 755 reply to fan who requested for a Kojizaka song: I'll make it. (YES)
Kojima Haruna on All Night Nippon: In case NGZK46 members couldn't make it, I'll still stick w/ KOJIZAKA46 but call various famous ppl w/ Kojima surnames to come~ (Credit TKMN World)
-Shimazaki Haruka's salty reaction when she won

In the matchup between Shimazaki Haruka and Muto Tomu, Shimazaki Haruka(Paruru) had a clear look of disdain on her face after winning.The reason – she didn't want to win at all.
When she lost to another member in a later match, Paruru said "I'm happy and relieved". When asked which member she was rooting for to win, she replied "Anyone is fine." Commentators then followed up with "well she's probably happy as long as it's not herself".
– Best costume: Takamina vs Sayanee?
Awhile back, Shinobu(AKB chief costume designer) had mentioned that these 2 members were the ones to look out for when it comes to costumes. Indeed, the 2 were attention grabbing especially since they were matched up to each other.


This was not only a competition between the captain of NMB48 and AKB48, but also a competition between the representatives of Osaka and Tokyo. Takamina was dressed up as a sparkly Tokyo Tower and Yamamoto Sayaka was dressed up Tsutenkaku, a famous tower in Osaka.
-The final match between Milky and Kojiharu
Both are regular senbatsu members. Watanabe Miyuki had lost a placement in this year's senbatsu sousenkyo due to her scandal. Kojima Haruna is a 1st generation member who is ready to graduate but yet to receive a solo debut. Both are looking for that breakthrough in their careers. Before the match, Kojiharu talked about showing her true powers and desire to win after 9 years in AKB. Milky talked about making this the best present since her birthday is just a few days ahead.

Milky's winning speech: I hope i have repaid those who supported me. I'll work hard.
Kojiharu: If i had won this, i would have announced my graduation. I'll work hard for a little while more.
-Members' reactions on social media
Maeda Atsuko and Shinoda Mariko apparently were sitting in the audience watching the tournament unfold.
http://instagram.com/p/tC_pmktdmJ
Shinoda's IG: Congratulations on being 2nd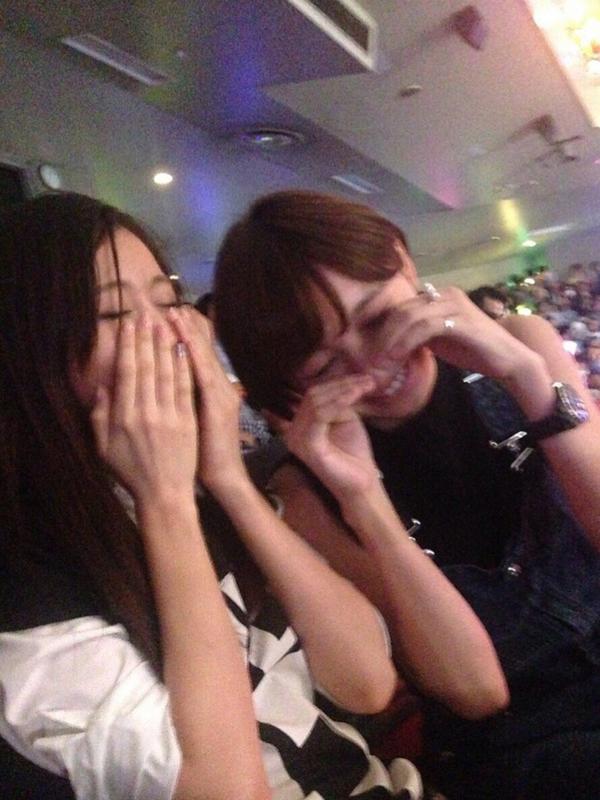 Acchan's Twitter: We came to support NyanNyan! This is the moment when NyanNyan lost. *Laugh*
Kojiharu's IG: I lost!Thanks for the support!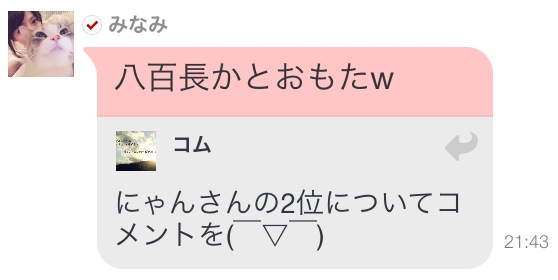 Takamina on 755: I thought Kojiharu's 2nd position was rigged.
Yuko's Twitter: Milky Congratulations! #NyanNyan
-AKB48 38th single announced 
The anticipated single will be released on 26th November 2014.
With an expanded senbatsu to 32 members and double center system, fans were certainly surprised in many ways. Many younger generations were included in senbatsu for the first time. Members who had been making leaps in the sousenkyo this year, such as Muto Tomu, Oshima Ryoka, Tano Yuka, Takahashi Juri, Kato Rena etc were also included.
Check out the members' reactions below


Credit : TKMN World
If you are looking for the full janken replay, check out this youtube user's videos.