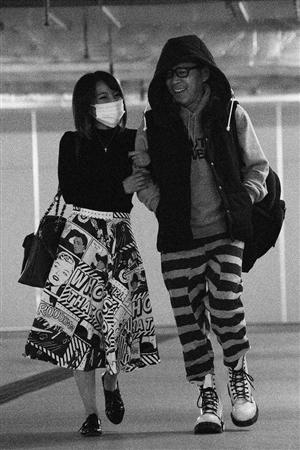 A photo of Comedian Okamura(44) and captain of AKB48 Takahashi Minami(23) on an intimate date has been published exclusively by Sankei Sports.
Takahashi Minami(23) is the member who holds the most important position of "General Manager" in AKB48. The idol group members observe a love ban rule which will only be lifted once they graduate or resign from the group. This photo, if proven to be true, will no doubt have a big impact. On the other side, for Okamura who has been free of scandals the past year, this is definitely something new.
In the photo, Takahashi was captured hanging on to Okamura's arms as they walked through a carpark. Even though Okamura was wearing a hoodie and Takahashi had a mask on, it was possible to identify their faces. Okamura stands at 1.56m tall whereas Takahashi is 1.48m tall. Is this the birth of the small couple?
When contacted, both their agencies refused to comment. According to insiders, the truth will be revealed on the Dec 6 episode of "Mecha x2 Iketeru!Special Version".
Edit:
I didn't want to spoil things for everyone but i guess alot of people already know about this dokkiri special. Mecha x2 Iketeru is a variety show with no fixed format. In the past, they have collaborated with AKB48 on several occasions. One episode tested the members' wits and Kawaei Rina shot to stardom for being the dumbest member. Another episode showed the comedians(anchors of the show) trying to transform Shimazaki Haruka into a friendly idol. The most recent one was a Oshima Yuko graduation special, where she took on different genres of variety for the last time.
This time, Takahashi Minami was chosen as the protagonist. She has to lead her members into thinking that she has broken the love ban rule and so AKB48 has to disband. To make things more convincing, a fake paparazzi shot was shown to the members by Shinobu, the AKB48 Group General Manager. In the preview clip, Takahashi was also seen barging into a press conference, possibly to address her scandal to the 100 odd press. How will the members react? Who will be become the Reaction Center?
Takamina opens the door and sees the gagmen of Mecha Ike in the room. The gagmen try to invite her in. Knowing something is up, Takamina tries to reject.
Takamina: Is this spot really for me?
Gagmen: Yes, pls sit down. You're the General Manager right? Last week, we spoke with Akimoto sensei. In summary, General Manager will graduate from AKB48.
Takamina: Heh?!No no no..that's something i decide for myself.
Gagmen: We are sorry, but General Manager will graduate. AKB48 will disband.
-Fast forward to the end-
Takamina: So AKB48 ends in this way?
Gagmen: That's right, AKB48 will end this way.
Episode goes live on these streaming sites at 7pm Japan time later today.
https://streamup.com/AKB48-Taiwan-Clubs
https://streamup.com/ATC-LOD
https://streamup.com/allen780924
https://streamup.com/48GLOD
http://vaughnlive.tv/vbn159951  
http://www.douyutv.com/2264
http://www.douyutv.com/2266
There is also a pre-show special at 10.45am Japan time, happening in a few hours.
https://streamup.com/AKB48-Taiwan-Clubs
(Credits to AKB48 Taiwan Fan Club)
What a great Saturday!