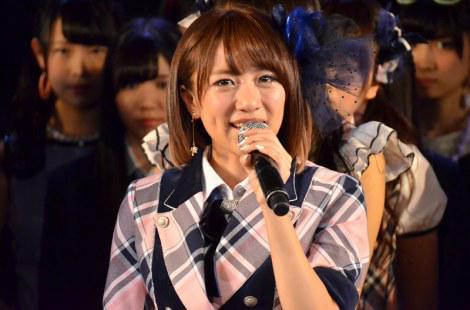 AKB48 Group General Manager Takahashi Minami(23) has announced her graduation from the group on 8th December.
This announcement came while the group was holding their 9th anniversary live show at the theater.
"I, Takahashi Minami, will graduate on 8th December 2015. This notice comes one year in advance. I announced it at this time as i wanted make time for the member whom i will handover to.
The next Group General Manager will be Yokoyama Yui(21), ex-captain of Team A and currently captain of Team K.
"I just want to say 1 thing. This is not a sad thing. Next year's our 10th anniversary. It's an important year.I'm very happy that this group can last this long. This group is not something that ends after 10 years. I hope that it can continue to its 11th year. It'll be alright. I will work hard with Yokoyama to bond the remaining members together."
Takahashi Minami made her debut with the group on 8th December 2005 as a first generation member. She was appointed the Group General Manager to be in charge of the flagship branch and its sister groups in 2012. This year, she appeared on Fuji TV's "Mecha Mecha Iketeru Dokkiri Special" to prank her team members into thinking she'd graduate due to a scandal. This time, her graduation announcement comes for real.
Takahashi, unlike previous centers Maeda Atsuko and Oshima Yuko, is the one and only member with a leadership presence in the group. Fans and members will certainly be shocked by this.
---
An excerpt of the speech where she passes the baton to Yokoyama Yui.