Short version

Full Dance version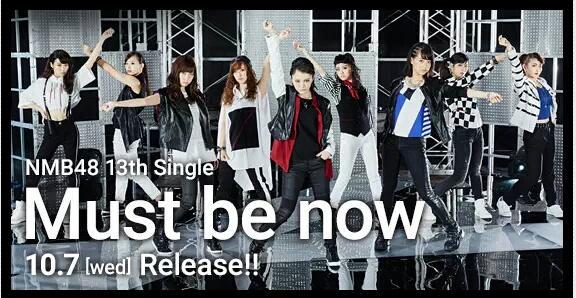 NMB48's new single "Must be now" is set to release on 7th October and with it comes lots of changes to the fundamental setup of a 48group.
Firstly, the senbatsu for title track has been reduced to a very exclusive 9-member team, with Yamamoto Sayaka in the center, and Watanabe Miyuki, Kato Yuka, Nishimura Aika, Umeda Ayaka, Kusaka Konomi, Kishino Rika, Ishida Yumi, Kinoshita Haruna.
The electronic dance music was specially chosen to break down the images of NMB48 as idols.The dance was choreographed by a famous guy called "Warner". According to the director of the music video, the members rehearsed hard to synchronise the dance, to the point where they reached their physical limits.
The senbatsu performed this in theater on the 10th September.
Yamamoto Sayaka commented "This is a tough dance number. As some of you noticed, my headset totally fell off!"
Watanabe Miyuki said "This time its a fast dance number and it's my favourite type of song.With this song, i will work hard hoping many will discover NMB48 and become fans."
---
Coupling Songs
---
Purchase their single below:
Type A Limited
Type B Limited
Type C Limited