Do not copy and paste/screencap/extract any part of this post in forums/blogs/SNS/other sites. Especially for those on Tumblr, Stage48, Onehallyu, Twitter. Thanks for cooperating.
このページの内容は、他 の Webサ イト(特にまとめサイト)や印刷媒体、その他の記録媒体等において、複製、改変、翻案など をする ことは 禁止 し ま す。ご協力ありがとうございます。
---
Just a teaser before results are announced later tonight.
I've only looked at votes for the Kami7 level members and have ranked them according to how much their fans have raised so far. Note that these funds is not all-inclusive since there may be campaigns which run independently elsewhere, and there will be fans who choose to vote/donate in private.
Please do not read if you think it's going to be spoilers.
---
7.Nyan Nyan Kamen


Final Votes: 2362
Last year: None
Kojiharu c-fans are quite enthusiastic, however they have difficulty getting bulk amounts of cheap votes. Otherwise i believe she'd be getting much more support than this.
6.Yamamoto Sayaka


Final Votes: 8386
Last year: 4647
Some increase from last year!
5.Miyawaki Sakura


Final Votes: 12,602
Last year: 12,591
Despite the huge push she's received the past year, her chinese votes hasn't increased at all.
4.Shimazaki Haruka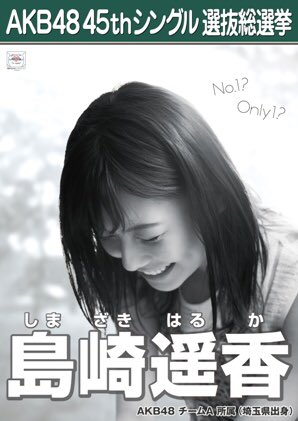 Final Votes: 14,303
Last year: 12,675
With Paruru's absence in AKB activities the past year, her fans are eager to prove that they are still around and rooting her on. Their fundraising activities are the most transparent of all fanbases, with reporting done to the last $0.01. Not surprising that her votes increased as this is also apparently her "last" sousenkyo.
3.Kashiwagi Yuki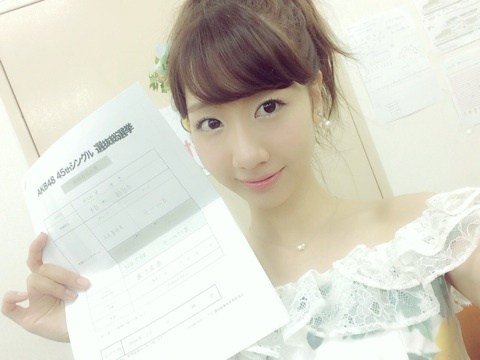 Final Votes: 16,064
Last year: 38,000
The boost of enthusiasm from last year(when Yukirin announced her ambitions for No.1) is now gone, for reasons we can imagine. Yukirin will probably be fighting with Jurina for the No.3 spot.
2.Sashihara Rino


Final Votes:18,100
Last year: 14,046
Her Japanese Fanclub admin actually predicted that there will be a huge gap in votes in China. However, he/she has also very confidently announced that at least 220,000 votes has been secured domestically.
Update: Only 800 people participated in China's crowdfunding, but on average each person put in 22 votes. Like the rumors suggest, her fans are rich – and putting it in their own words, "aggressive" and "maniacs".
1.Watanabe Mayu


Final Votes:51,716
Last year: ~34,000
Above amount is contributed from 4,000 fans, and on average each person contributed 13 votes. There's probably at least 1,600 votes from another independent seller and more from other fanclubs in Taiwan, Hong Kong, SE Asia. If we consider global popularity, Mayu is easily the Queen of Group48.
---
0.Matsui Jurina
Final Votes: 27,000???
Last year: 15,200 (interim figure with no final report)
Somehow they did not put out an official report, and 27,000 is just a reported figure i saw somewhere. So pls do not take it seriously.
---
Figures from 2015 in a previous post here:
https://allthingsjpop.wordpress.com/2015/05/29/3-weeks-to-akb48-general-elections-2015-a-look-at-china-fans-campaigns/
---