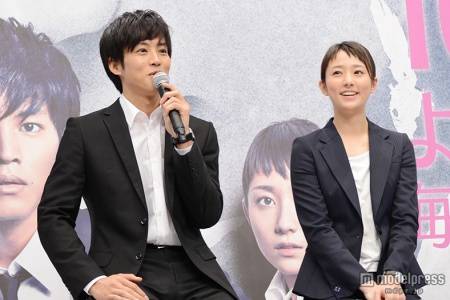 Matsuzaka Tori appeared at promotions for upcoming Fuji TV drama "Siren" (airing 20th Oct) and talked about episodes with bad women.
"Infront of men they like, they'd gush over small animals or children, but once the guy is gone they'd turn the other way."
Co-actress Yamaguchi Sayaka questioned the identity of this person but Matsuzaka said "I can't reveal it but she's around…"
He also talked about his sister's advice on women. "My sister has been warning about certain types of women for the past 27 years. If possible, i'd like to stay away them.I'm naive, there might even be times when i'm cheated without realising it."
For Matsuzaka, this is his first time leading a drama in the prime time slot. Talking about the pressures of Fuji tv ratings, he said with a bitter smile "My manager has been motivating me. Usually, i'm not the type to initiate conversations but this time i gave the staff nicknames and actively engaged in discussions to get the tone of this drama.I trained hard for action scenes so that i won't need stand-ins."
---
Finally a drama lead for Matsuzaka but unfortunately detective dramas are not my cup of tea.